Site dedicated to Late Dr. Himadri Sarkar
This website is dedicated to Dr. Himadri Kumar Sarkar, father of the present author, and one of the pioneers of urological surgery in this country. His contribution to Indian urology has been recognised by the Urological Association of India by the Himadri Sarkar Memorial Oration delivered annually as the inaugural event of the annual meeting of the association. The author was inspired into an urological career by the memory of his father who died in his childhood.

The life and times of Dr. Himadri Sarkar
Dr. Himadri Kumar Sarkar was born in 1920 at Kurseong, a small hill town near Darjeeling in West Bengal. After a brilliant high school and intermediate career he joined Medical College, Calcutta in 1938. Here he excelled, with an enviable scholastic record, and passed the MB examinations in 1944. After a brief stint as an Anatomy demonstrator he left for England in 1948, where, within a year he passed the Fellowship examinations of the Royal Colleges of England and Edinburgh.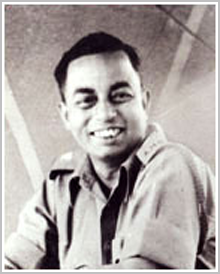 In England he trained under the redoubtable Harry Hamilton Stewart at the Bradford Royal Infirmary; it was here that he developed a love for the specialty of Urology. Back in India he worked as surgeon to the Calcutta Port Commissioners between 1949 and 1956. Here he developed a reputation as a fearless surgeon. He published several acclaimed research papers on partial gastrectomy and post-traumatic injuries of the cervical spine in these years. In 1956 he joined SSKM hospital (now IPGMER), initially as a general surgeon, though over the years his career interest was gradually shifting into urology .Dr Sarkar was also a member of the territorial army attaining the rank of Major. In 1962 he was called to action in the NEFA during the Sino-Indian conflict and there was thus an interruption of his career at the SSKM Hospital. After the war he was placed in Military Hospitals in Jabbalpur and Calcutta. In 1964 he returned to his appointment at the SSKM hospital and eventually realized his dream of creating an independent urology unit in 1964. This was to become a centre of excellence with wide ranging facilities for research and training. A wide range of urological surgery was performed in this unit. His main urological research interests were in bladder neck obstruction, vesico-ureteral reflux, renal function studies, urinary tuberculosis, outcome of prostatectomy, renal angiography, renal hypertension,and neuropathic bladdder. He had 32 publications in various journals, and read 15 papers to learned societies. He guided 11 MS students in thesis projects. He was examiner in Surgery to the University of Calcutta, and an examiner for MCH Urology to the University of Madras. He attained the rank of Associate Professor of Surgery, Calcutta University. He was one of the founder members of the urology section of the ASI, and the Urology Association, Calcutta. He died in the year 1970 at the age of 49.
Prizes and Awards :
College Scholarship in the 2nd, 3rd, 4th and 6th year classes
Manackjee Rostomji Scholarship. Gold medal in Surgery
Duke of Edinburgh Prize in Surgery
Gold medal in Ophthalmic Surgery
Government Prize in Clinical Surgery
2nd Prosector's Prize in Anatomy
Ekendranath Ghosh Medal
Mcleod Gold Medal
Pasupati Silver Medal
Sir Frank Connor Memorial Prize
Class Assistantships in (i) Surgery (ii) Clinical Surgery (iii) Ophthalmic Surgery
2nd Prosectorship in Anatomy
Surgical Experience :
House Surgeon, September, 1944 to July, 1945. Medical College, Calcutta.
Emergency Medical Service, 1945.
Asst. Surgeon, November,1946 to November, 1948 Calcutta Port Commissioners.
Urological House Surgeon (U.K.) December, 1948 to July, 1949.
Deputy Medical Officer (Surgical) August, 1949 to June, 1956 Calcutta Port Commissioners.
Surgeon General (Hony) November 1961 to November 1962 till death S.S.K.M. Hospital, Calcutta.
National Service in March, 1960 to November 1961Territorial Army.
Publications :
Radiological observation in surgery of peptic ulcer, Ind. J. Radiol. Nov. 1951.
A case of early vollmann's Ischemic contracture, etc. I J. Surg. Dec. 1952.
Supraspinatcus calcification, Cal. Med. Club. J. Dec. 1952.
Report of twelve cases of peptic ulcer treated by partial gastrectomy. 1, Med. Gaz. April, 1952.
Intramedullary Lipoma of the opinal cord. Ind. J. Surg. September, 1953.
Spontaneous intraperitoneal rupture of urinary bladder. Ind, J. June, 1953.
Intussssueception in adult. Ind. Med. Gaz. No. 1953.
A skin case. Bull. Cal. S. T. M. Vol. 1 No. 2 p-31.
Traumatic prolapse of overvical intervertebral disc. Bull. Cal. STM. Vol. 1 No. 2 Page -34.
A case of traumatic quadruplegia. Bull. Cal. S. T. M. Vol. 2 No. 2 p-7.
A case of spinal tumour. Ind. Med. Gaz. July 1952, p-321.
Post traumatic functional paralysis following injuries of cervical spine and its pathogenesis. Ind. J. Surg. June, 1956, Vol. 1.
Epithelial cyst of hand. Ind. J. Surg. Vol. 20, No. 6, Dec. 1958.
Horse shoe kidney. Bul. I. P. G. M. E. & R., Cal. Vol. 1, No. 2, 1959.
Genitourinary tuberculosis in male. Cal. Med. Club J. Vol. 157, Dec. 1960, p-449-458.
Observations on papillary changes in cases of cervical spinal injury. Bull. I. P. G. M. E. & R., Cal. 2 No. 1.
Horn in an epithelial cyst. Ind. J. Surg. Vol. 23, No. 2, 1961.
Haematuria in surgical practice, Ind. Med. Jr. 1962.
Problems of male infertility. M. P. State Med. J. 1963.
Etiology and Pathology of bladder neck obstruction in adult Transaction of Medical College Reunion, Calcutta-1964.
Common causes of Urinary difficulty in elderly patient - Diagnosis and Management, Med. Sciences and Service, July 1964.
Vasectomy. Medical Sciences and Service. Nov. 1964 ∑ Anti H in a female - Joint article, J. I. M. A., Vol. 46, p-558-560, 1966.
True hermophroditism - A clinical, Pathological and Cytogenic study - Bull. I. P. G. M. E. & R., Cal. Vol. 8 No. 3, July, 1966.
Late cases of erinary Tuberculosis (Clinical Appraisal and Management). Transaction of the regional Conference held in S. S. K. M. Hospital, Calcutta, in 1965 - Joint article.
An approach to semi-Quantitative study of Muscle in Bladder Neck obstruction. Transaction of the Regional conference held in 1965.
Functional and Histological study of Radiologically Nonfunctioning kidney or doubtfully functioning kidney - transaction of the Regional urology conference held in 1965 in S. S. K. M. Hospital, Calcutta.
Reticulum Cell sarcoma of Testis, Bull. I. P. G. M. E. & R., Calcutta Vol. x, No. 1. P-36, Jany. 1968.
Prostatectomy - J. Ind. Med. Assn. - Editorial.
A clinical and Radiological study of Nalidixic Acia in urinary tract infection. Bull. I. P. G. M. E. & R., 10, No. 3 P-120-128, 1968.
Testicular tumour - case report. Bull. IPGMER, 1968.
Hy. Arthoplasty - case report. Bull. IPGMER, 1968.
Research and other outstanding work :
Recipient of Dr. Sankar Memorial Prize for research on post - traumatic functional paralysis following injury to the cervical spine and its pathogenesis - 1954.
Recipient of I. C. M. R. Grant for "Enquiry into Spinal Concussion following injuries of spine for 1957-60"
Guiding Thesis of M.S. Students on the following subjects :-
i) Bladder Neck obstruction.
ii) Urinary Infection.
iii) Renal Angiogram.
iv) Vesicoureteral Reflux.
v) Urinary Diversion.
vi) Tuberculosis of kidney.
vii) Prostatectomy Follow Up.
viii) Cauda Equina Bladder.
ix) Renal Tumour. x) Hydrone phrosis.
xi) Chronic Renal Failure.
Research work in subjects other than thesis work :-
i) Cervical Spinal Injury.
ii) Carcinoma Bladder.
iii) Intersex.
iv) Urethral Bleeding.